THE GAME
Ultimate Texas Hold'em features head-to-head play against the dealer and an optional bonus bet.
Players and the dealer each receive two cards. They combine them with five community cards to make their best five-card hand. Ultimate Texas Hold'em lets players bet aggressively. The earlier
they bet, the more they can risk—and win. If players bet pre-flop, they may risk 3x or 4x their Ante. If they bet on the flop, they may bet 2x their ante. And if they wait until the river—when all
community cards are out—they may only bet 1x their Ante.
This game also features an optional bet, the Trips Bonus. Players win the Trips Bonus if their final five-card hand is three of a kind or higher. Odds printed on layout.
READ THIS: How to Play Pai Gow Poker
THE PLAY
All wagers at ultimate Texas hold'em shall be made by placing chips, plaques or promotional coupons on the appropriate betting areas of the table layout. All ante, blind and trips wagers shall be placed, increased or withdrawn prior to the dealer announcing "no more bets."
Upon placing an ante wager and a blind wager, a player may also place a trips wager by placing a wager on the designated betting area of the layout. The outcome of the trips wager shall have no
bearing on any other wager made by the player.
Only players who are seated at an ultimate Texas hold'em poker table may place a wager on the game. Once a player has placed a wager and received cards, such player shall remain seated until the completion of the round of play.

The permissible poker hands at the game of ultimate Texas hold'em, in order of highest to lowest rank are: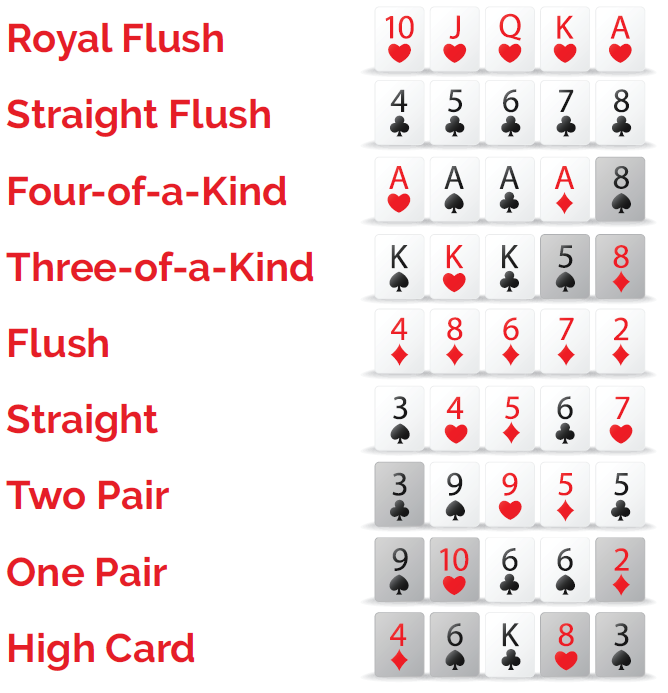 When comparing two hands that are of identical poker rank, the hand that contains the highest-ranking card that is not contained in the other hand shall be considered the higher-ranking hand. If the hands are of identical rank, the hands shall be considered a push.
Progressive Payout
Prior to paying a progressive payout hand, the dealer shall:
* Verify that the hand is a winning hand;
* Verify that the appropriate light on the acceptor device has been illuminated; and
* Have a gaming supervisor validate the progressive payout
Any winning progressive payout wager shall be paid without
regard to the rank of the dealer's hand, even if the dealer does
not have a qualifying hand.