FOR IMMEDIATE RELEASE
February 23, 2023
Contact: Kimberly Winston
[email protected]
45th Annual WSUL Heart-A-Thon Returns to Resorts World Catskills
Event was coupled with a blood drive in celebration of American Heart Month
Monticello, NY – Resorts World Catskills (RWC) announced today it once again played host to the 98.3 WSUL Heart-A-Thon on Friday, February 17, along with a blood drive. The event, now in its 45th year, raised $103,198 and collected 54 useable pints of blood.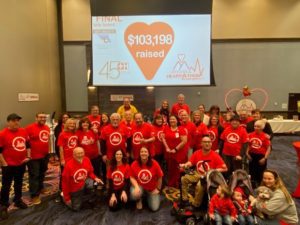 "Each year, it's encouraging to see how many people throughout the area give so generously to help with the treatment of heart disease in Sullivan County," said Meghan Taylor, Vice President, Government Affairs & Public Relations, Genting New York. "A healthy community is a happy one and Resorts World is always looking at ways to help improve the health of our residents. In addition to hosting this year's event, we were also proud to contribute $10,000 to help in the fight against heart disease."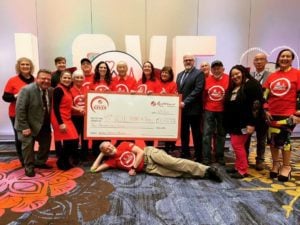 Proceeds from the event usually go towards buying equipment for the treatment of heart disease in Sullivan County. This year, the funds will also be used for prevention and education. Beneficiaries include:
Garnet Health, which is buying new heart monitors, a vital monitoring machine and cardiac rehab treadmills;
SUNY Sullivan, which will use the money to award healthcare workforce scholarships;
A Single Bite, where donations will help fund its Real Food Education program;
Sullivan 180, which is buying a new community outdoor fitness pad and funding its Warrior Teens program.
To date, the Heart-A-Thon has raised more than $3 million for the fight against heart disease. Donations are still being accepted.
The Rotary Clubs of Monticello, Liberty, and Livingston Manor sponsored the accompanying blood drive in conjunction with the New York Blood Center.
###
About Resorts World Catskills
Located in the heart of New York's Catskill region, Resorts World Catskills (RWC) Hotel and Casino Resort offers guests unmatched experiences in excitement, entertainment, and luxury. The integrated casino-resort features live Las-Vegas style table games, state-of-the art slot machines, a poker room, private gaming salons, a 100-seat sportsbook lounge, and the mobile app, Resorts World Bet, the fastest and safest way to bet on sports. The casino-resort's 10 varied bar and restaurant experiences include an Italian steakhouse created by celebrity chef Scott Conant. There's also year-round live entertainment at the 2,500-seat RW Epicenter. The 18-story all-suite luxurious hotel located within Resorts World Catskills features the Crystal Life Spa, two indoor pools, and two fitness centers. The Alder, the adjacent lifestyle hotel, features the first Topgolf Swing Suites in New York State, Dos Gatos, a cantina-style Mexican eatery, and will be expanded to include a Rees Jones redesigned Monster Golf Course in 2023.