Those of us who make sure the guest experience at Resorts World Catskills is nothing less than stellar have a lot of pride in our work. The best part of this corner of New York is that we're close enough to the big City while nestled in the legendary Catskill Mountains. It's easy to forget just how close we are to the glitz and glam of New York City.
There's a natural serenity here that beckons those seeking to break away from the concrete jungle. Within the resort itself, however, there's nothing but loads of fun events, exquisite dining, thrilling gaming, and all the amenities that make for a perfect decompressing getaway. We're always looking to outperform ourselves to meet guests' needs, but we'll leave it to the guests themselves to tell us in their reviews!
"Excellent Hotel!"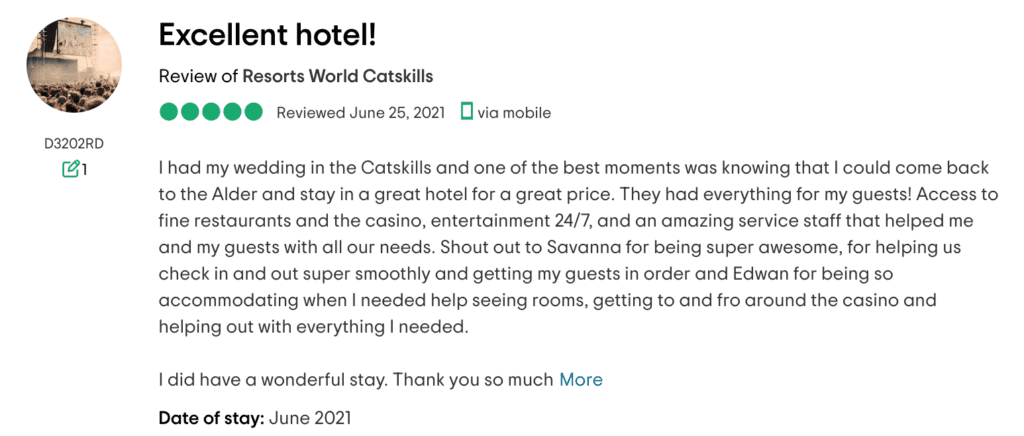 Guests can enjoy here two accommodation destinations for at Resorts World Catskills. Our 18-story, the all-suite property stands tall among the mountain setting and the lifestyle-oriented Alder gives guests more options to enjoy comfort and luxury. Here's a sample of what we're talking about in guests' own words: "I had my wedding in the Catskills, and one of the best moments was knowing that I could come back to the Alder and stay in a great hotel for a great price. They had everything for my guests! Access to fine restaurants and the casino, entertainment 24/7, and an amazing service staff that helped me and my guests with all our needs." This is exactly what we are striving for—taking all the stress and worry away so your downtime truly is downtime. Please feel free to ask us to go the extra mile, we will go there for you!
"Casino Fun in the Catskills"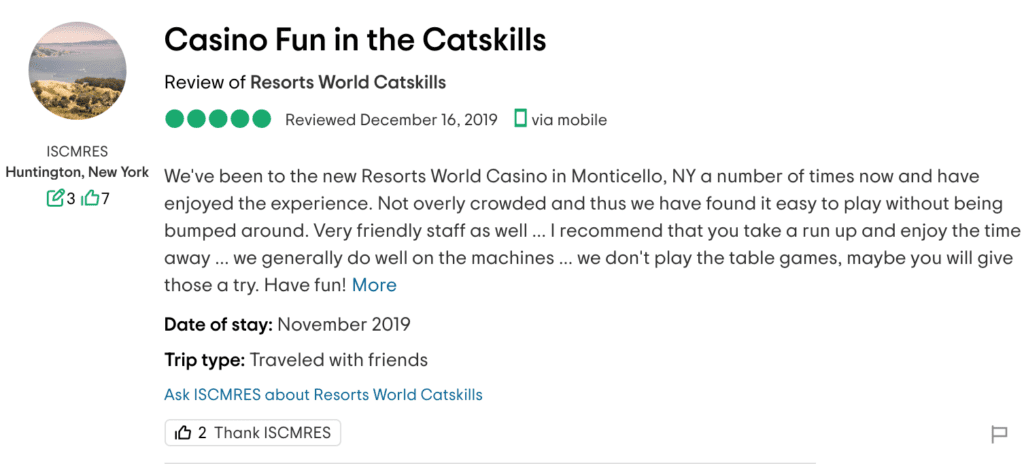 Did we mention that we have an incredible casino here at Resorts World Catskills? We are talking about 100,000 square feet of gaming action! Pull the levers at one of our 1,600 slot machines. Test your strategy at gaming tables hosting Blackjack, Poker, and more. In fact, we have no less than 150 live table games. If you're into sports, Sportsbook 360 is also there to take your bets. You'll find it a very comfortable experience, as this guest did: "We've been to the new Resorts World Casino in Monticello, NY, a number of times now and have enjoyed the experience. Not overly crowded and we have found it easy to play without being bumped around. Very friendly staff as well … I recommend that you take a run up and enjoy the time away … we generally do well on the machines … we don't play the table games, maybe you will give those a try. Have fun!" Expect plenty of elbow room with no shortage of energy from the crowd. Try your luck and enjoy yourself. We are here to make it as fun and exciting as possible!
"Great Evening!"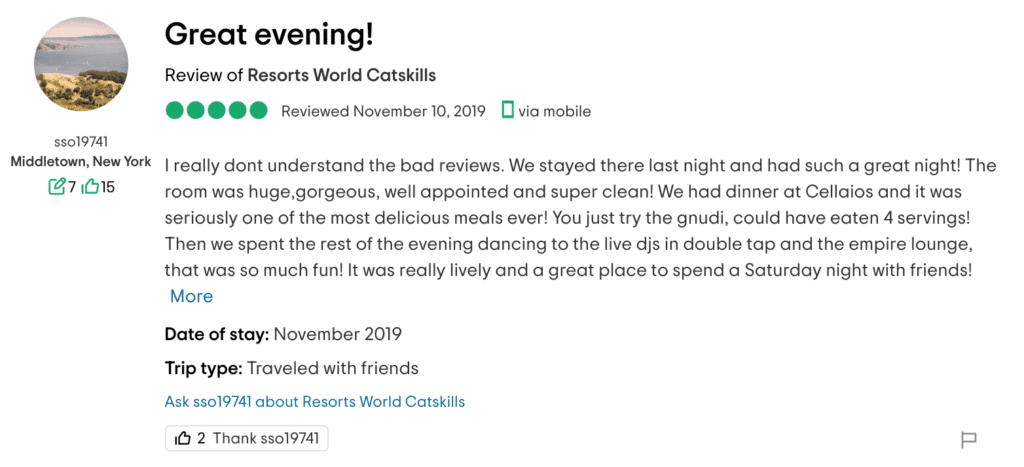 Some guests come to Resorts World Catskills for days or even a week at a time, and some come just to escape the city to spend a night of unadulterated fun! Any way you want to do it, you can expect to be pampered and have your belly full. We have many outstanding dining choices on the property, and you will find that many folks are more than satiated by the time they leave. For example, this feedback has our mouths watering: "We stayed there last night and had such a great night! The room was huge, gorgeous, well appointed, and super clean! We had dinner at Cellaio, and it was seriously one of the most delicious meals ever! You just try the gnudi—could have eaten 4 servings!" By the way, Cellaio is our 5-star Italian steakhouse. There's also Mexican at the Dos Gatos Cantina, an Asian street fair at Good Friends, and exquisite Chinese delicacies at Lotus. That's just a small taste of all the food options we have here—be sure to arrive hungry!
"The Alder"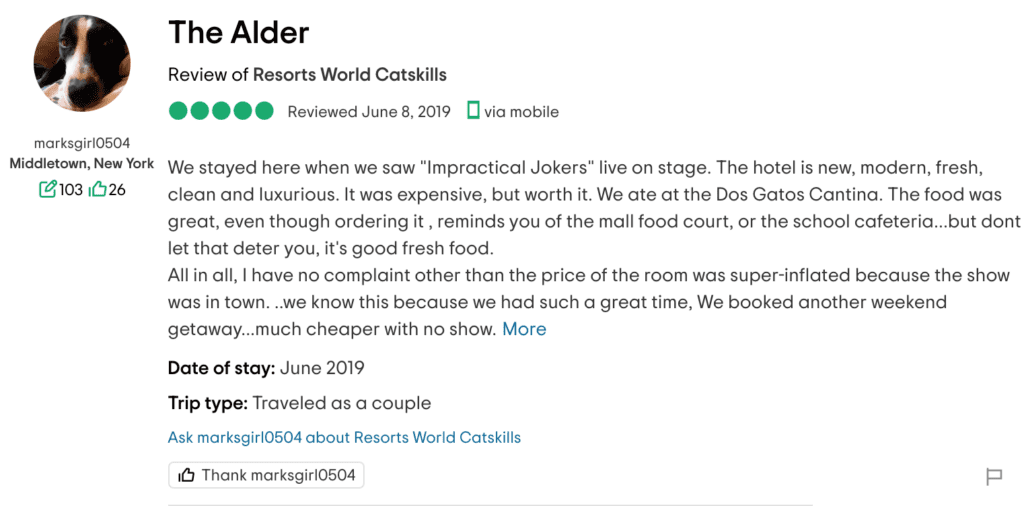 There's a lot more to Resorts World Catskills than you might think. Yes, there are great eateries, a terrific casino, and fantastic amenities in your rooms. You will see that reflected in the following guest's feedback. But take note of how their review begins: "We stayed here when we saw 'Impractical Jokers' live on stage. The hotel is new, modern, fresh, clean, and luxurious. It was expensive but worth it. We ate at the Dos Gatos Cantina. The food was great, even though ordering it, reminds you of the mall food court, or the school cafeteria…but don't let that deter you, it's good fresh food." OK, so like we said, good food, great accommodations, but did you notice the entertainment options? There are in fact a whole boatload of awesome concerts, events, and more happening. You can keep on top of what's on the horizon by visiting our entertainment page that lists all the amazing performers who perform everywhere from our large venue to intimate settings in our restaurants. Are you having fun yet?
"Excellent Stay at Resorts World Catskills"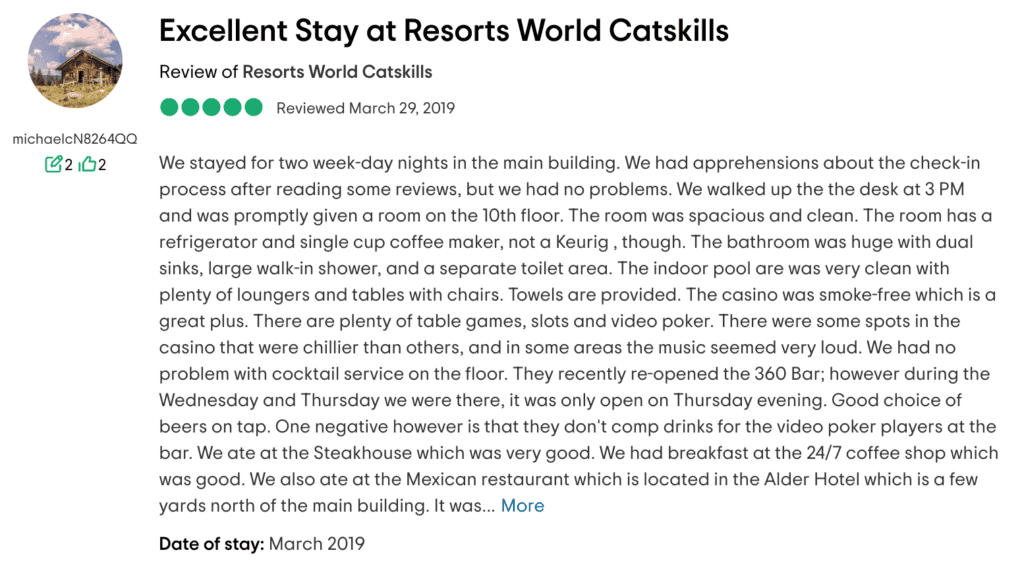 Overall, as we said in the beginning, we take pride in giving our guests our very best. Whether you're focusing on the food, the gaming, or the great amenities, the idea is to offer up all the pieces to come up with a perfect whole experience. And we think it's best summed up by this reviewer: "We stayed for two week-day nights in the main building. We had apprehensions about the check-in process after reading some reviews, but we had no problems… The room was spacious and clean…The indoor pool was very clean with plenty of loungers and tables with chairs… The casino was smoke-free which is a great plus…We ate at the Steakhouse which was very good." Satisfying across the board—that's what you can expect from us!